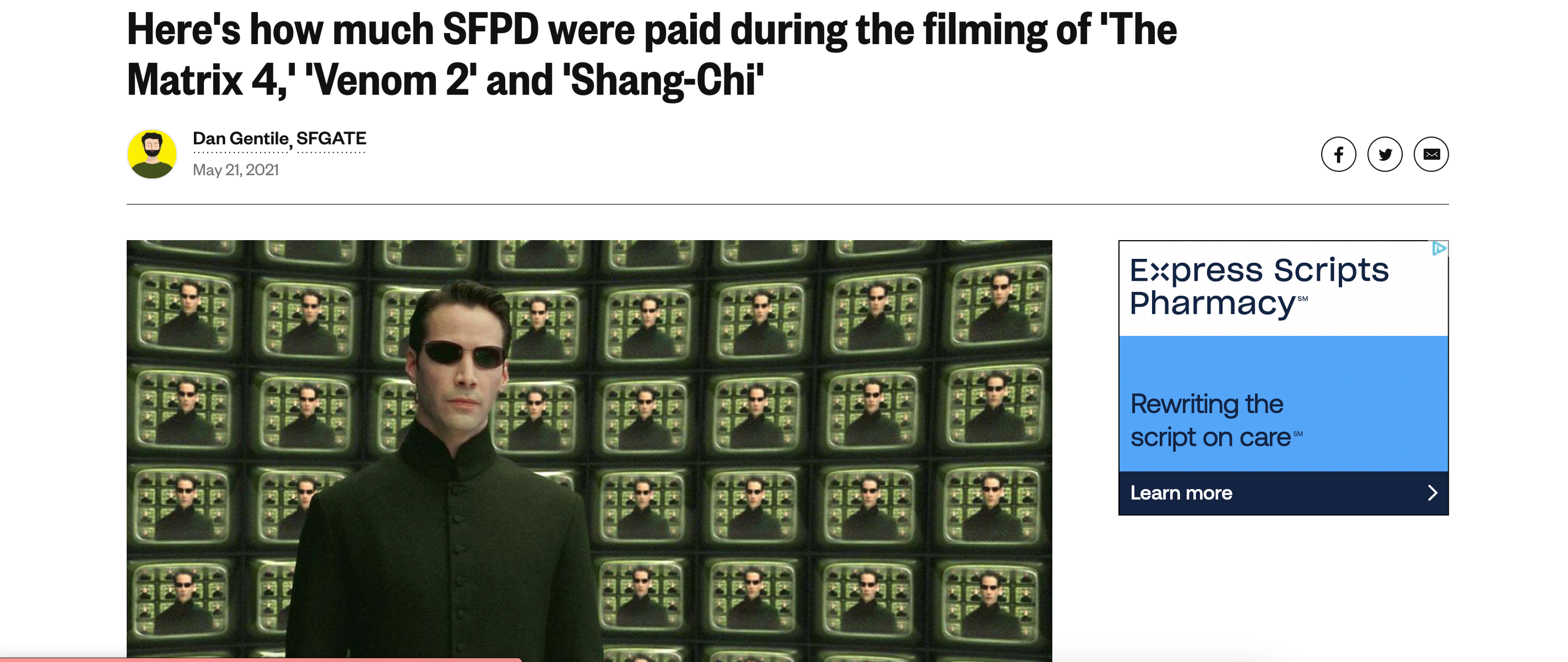 SF Gate published this article about how film budgets affect local economies and policies. The call to defund the police on a federal, state, and city level doesn't come into existence just through law and policy- it is a cultural pursuit as well. 
Filmmaking is not separate from our tangible world. How we budget films echos real-life problems like an over funding of a violent system. 
2020's paradigm shift about the prison industrial complex in America came from the righteous anger of George Floyd and Breona Taylor's state-sanctioned murder- sparking a fire to revisit the shadows of American history. The summer of 2020 sparked a momentum of public debate and law making changes about the need to end the police industrial complex (PIC) and to know its true origins- American slavery. 
Projects like The 1619 Project and The Zinned Project elucidate what generations of pro Black activists, writers, and organizers have literally been dying for us to know. The first step in transitioning out of the police industrial complex is defunding the police and allocating it to other resources like public housing, therapy, education, and accessible health care to name a few. 
  As a filmmaker, I began wondering how film has played a role in keeping policing alive and well in America. The podcast has a brilliant episode on this subject. Films that spread a false message that living with police is not just necessary, but a noble career to take part in is harmful and contribute to the longevity of the PIC. Copaganda film and television shows like Criminal Minds, NCIS, Chicago P.D, Zootopia, Nash Bridges, and even Bridesmaids are among countless examples of narratives surrounding the false idea that police protect people and the fallacy of a "good cop". Outside of copaganda in the writing of a film, the budget of a film can ensure the longevity of policing when a film devotes a portion of the budget to the police. And not just a small fee, I mean hundreds of thousands of dollars, 
SF GATE shares "According to documents obtained by SFGATE from the San Francisco Police Department, Adobe Pictures — the producers behind the film — paid the SFPD $420,371.63 for their services. For context, that's more than two other recent blockbusters shot in S.F. combined. ('Shang-Chi and the Legend of the Ten Rings' paid $162,775.98 and 'Venom: Let There Be Carnage' spent $192,422.58, SFPD documents show.)". It's troubling and disappointing that a film about breaking free from an oppressive and self diluting system like the matrix, where the villains are also coded as cops and FBI agents, used so much money to fund the SFPD and steering us away from transitioning to a much more loving way of life.
To be fair, writers and directors are not the same people who construct the budget of the production (and nor should they be). One single film, even a huge film like Matrix 4, could never destroy a future without police- and could never fix it single-handedly. To make a film like Matrix 4, you need permission from the city, their guidelines include needing police on set for a production like this.  But, what would film look like if city permits and safety measures did not happen through the police? What would echo from this decision? What would it feel like locally in San Francisco? These are the questions I want to explore as a filmmaker.
 Justa Causa released a response to the SFPD's murder of Adolfo Delgado "'Sanctuary for all'" must mean safety from police brutality and must encompass non-violent approaches and proven de-escalation techniques that limit abuses of power". 
The same production that gave a tremendous amount of money to the SFPD also created a program that dedicated changing who gets to be on sets like this, "In January of FY 19/20, Film SF worked with
Warner Brothers and Adobe Pictures' Project Ice Cream
(Matrix 4), IATSE Local 16 and Mayor Breed's Opportunities
for All program to create an opportunity for a diverse group
of young adults from underrepresented communities to get
a foothold into the world of film production…IATSE Local 16,
which provides labor to film productions, helped to create
these internships for positions in the props, grip, lighting, and
art departments" (SF Film Commision Annual Report). 
 I was the grip intern for Matrix 4. I was going to start HRT the month of production, but I put it on hold so I could dedicate the entire month of Febuary just for being on set for Matrix. it was my first union gig ever and it is telling SUCH a transgender story. I go to be on a union production telling a trangender story written and directed by Lana Wachowski. Our director is a a gay jewish transgender woman! It made me feel like I could walk in with some gumption and simply be myself. If I got misgendered on set, I felt like I could really stand up for myself. 

These two things are happening at the same time. I long for a future in filmmaking where we transition out of capitalism and the prison industrial complex. 


There is enough room for all of us.
 I long for a future in filmmaking where we transition out of capitalism and the prison industrial complex and go towards a future that values human life.