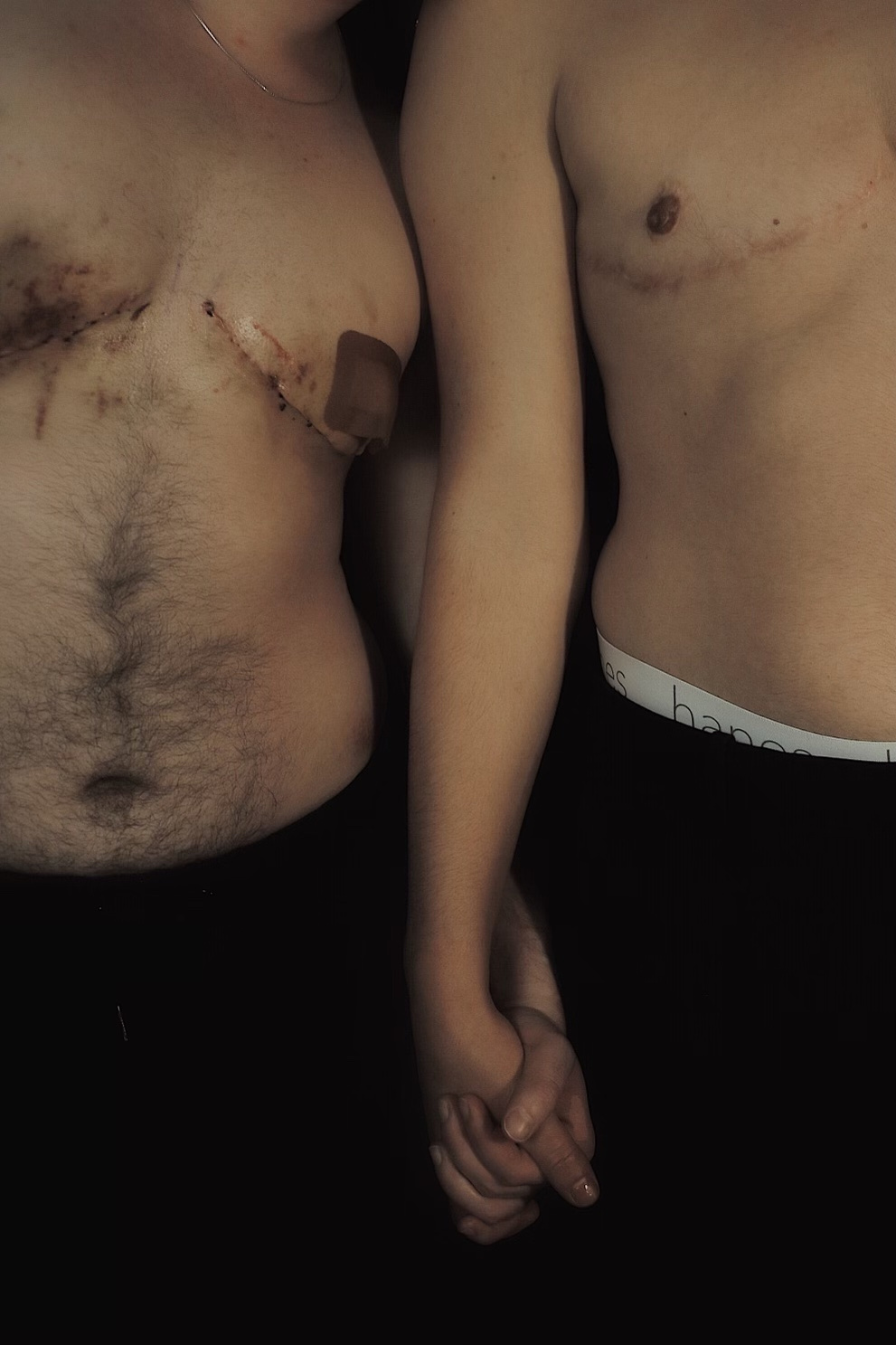 Ryan Chard Smith took more photos of me for our series, Ryan Meets Ryan to celebrate my body before top surgery and to visually say thank you to my old chest.
I have more to say about all the things involved here:
I thought one of the requirements for wanting top surgery is that I needed to violently dislike myself. Wanting to have a surgeon cut into my flesh and release something inside of me means I need to hate the part of me being cut out, right? That there cannot be any joy or reverence in my body each day I am living my pre-op life?
DEAD WRONG!
I so fiercely oppose this singular narrative stamped onto my transgender life! I am not miserable! At the same time, I still choose to radiate empathy for my trans community that is suffering.
The performance of a tormented transgender person comes from decades of medical gatekeeping meant to keep trans people from having access to affordable surgeries and hormones (ie: The Real Life Test and Medical gatekeeping in the US). We quite literally have to perform misery in order to get access to our needs. Quite a lot of us are miserable because human beings are in a fishbowl soaked in transphobia and racism and patriarchy. It's bouncing off the walls and then ricocheting into violence in our own communities. I believe we have been in desperate need to reevaluate the entire concept of health insurance and medicine because the way it currently operates is unhelpful at best, violent and oppressive at its worst. The resources we need to live shouldn't be privatized!
But I did not choose to have this surgery because I am walking in agony; this was me advocating for myself to receive joy and connection with my body.
This was not an execution. My chest was reshaped and reborn into something new. That is the most human experience I can think of! The ability to shift!
It's like leaves falling off a tree, ice melting into the lake, tears falling from your eyes.
It's a thank you and a goodbye.
New Air on New Skin learning to walk, breath, and talk all over again. I'm connected. I'm floating but not spiraling. It's wet here. sticky from where I was melted. Now I'm standing in the parts that are meant to remain liquid.
I am having a much more accurate relationship with myself.
It's no longer flashes of lightning briefly showing what I am.
It's the sun on my skin, freckles glowing on my shoulder.
And the sound of my heart
Doesn't sound like the pounding of a wooden door- breaking and entering.
It sounds like the percussion section of a choir- Gospel.
top surgery 11/11/21